THE LYON EQUIPMENT LAKE DISTRICT MOUNTAIN TRIAL
Classic mountain navigation race over challenging terrain in the Lake District.
The Entry fee is £24.50 (£1-50 discount if you use your own SI card)
The entry fee for anyone Under 23 on the day of the race is £5.00 (with a free loan of an SI card if you don't have one).  This is possible thanks to Ted Lowthian's bequest.
Pre-marked waterproof maps are included in the entry fee
On-the-spot results
Electronic punching and scoring using the SportIdent system
Post-race food and informal get together to discuss the day's proceedings are included in the entry fee!
Wide range of prizes
Results for the 2023 race are HERE There is also a link to Routegadget and WinSplits.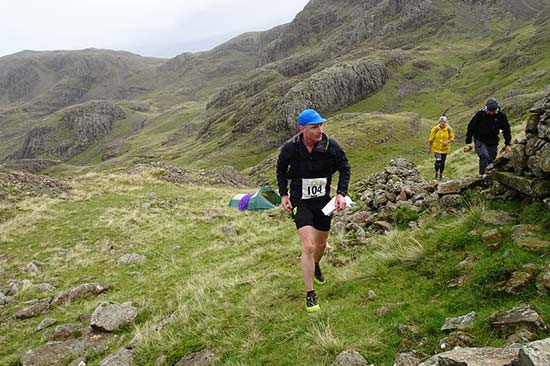 Nature of the The Lyon Equipment Lake District
Mountain Trial
A Trial is an annual event held at different venues in the Lake District in mid-September. It is considered to be one of the major events in the fell runner's calendar. All courses will be severe tests of route choice, navigational skill and stamina in difficult mountain country. Competitors on the Classic route will often cover 25 miles with 8000 feet of ascent and descent. The Medium route will be shorter (about three-quarters of the Classic distance). Owing to the severity of these courses, applicants are vetted for fell-running experience.
The Short Trial caters principally for novices over 18 years old and veterans over 60. The course will about half the length of the Classic. Applicants must have experience running or walking in the mountains and good navigational skills. There is a Pairs category on the Short course.
For all courses there is a minimum age of 18 for single runners. Over 14's may compete as part of a pair on the Short course if the accompanying runner is at least 21.